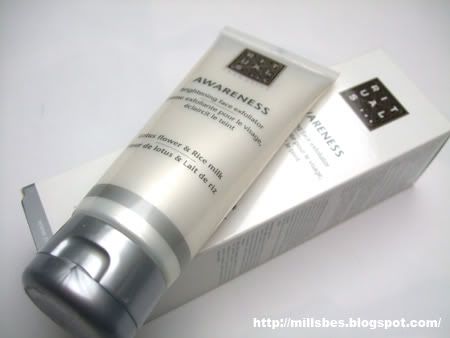 What they say
A brightening face exfoliator
Sensational 2-way scrub formula
Enhances natural cellular renewal, promoting a healthy look and skin texture
Contains 75ml or 2.5 Fl. Oz.
How to use
For combination to oily skin types: Apply on dry skin
For dry and/or sensitive skin types: Apply on wet skin.
Apply a thin layer on the face, avoiding the eye area. Exfoliate with fingertips until grains are dissolved. Rinse thoroughly with lukewarm water.
What I think
When exfoliating my skin, the main problems I have are: I don't know when I should stop rubbing the product into my face. The second problem is that the grains are often too big and rough. The combination of these two issues is a real killer for my skin. Can you imagine? Rubbing big rough grains onto your skin over and over and over? It's a miracle that I still have skin on my face!
I've been using this product for a few months already. The first thing I notice about this product is the scent. I normally don't really like scented face products. But I actually don't mind this one. The scent isn't strong and it's a very fresh flower scent. It reminds me of Skin Food's rice scrub, but less artificial? Anyways I'm not really good at describing scents. What I really like about this exfoliator is that the grains are very fine. After a little while the little grains will start to dissolve, that's when you know you should stop exfoliating. No more red broken skin, yay!
Another reason I like this exfoliator, is because it can be used on different skin types. Different parts of skin often have different skin types. For example a lot of people have an oily T-zone, while the cheek area is dry. Skin types can also change. For example my skin is oilier during the summer and drier during the winter. The
Awareness Face Exfoliator
can be used on different kind of skin types by just adding water.
I use this product after I've washed my face with (luke)warm water. I would splash some lukewarm water on my face. Then I would dab the areas where my skin is oilier dry and leave the dry/sensitive areas wet. Place a few dots of the product all over my face and start to exfoliate from the centre of my face.
The main question when you read a review, of course, is if the product works? Did it improve my skin? I have to say yes. The blackheads have decreased and the pores around my nose area are less visible. The little grains don't hurt my skin. I'll definitely buy this again. The price isn't too bad either, it's sold for €12,90.