I have two nail polish swatches I want to share with you all. Both nail polishes are from Rimmel. One is a grey and the other is a purple with shimmers.
I just realize how many grey nail polishes I have. Oh well, I guess I can always add another one to my collection. 805 Grey Matter is a light grey. Depending on the lighting it goes from a neutral to a more blue-ish hue. Maybe it's because I'm not used to big brushes, but I had some difficulties with applying the nail polish. Two coats were needed, because the first one was a bit streaky. But it wasn't a big surprise as the nail polish is a cream.
610 Pompous is a lovely metallic purple. Unlike Grey Matter, this one is very easy to apply. The colour is quite sheer, though. So you might need two coats are enough. I used three coats in the picture, because I think the colour was still too light after applying two coats.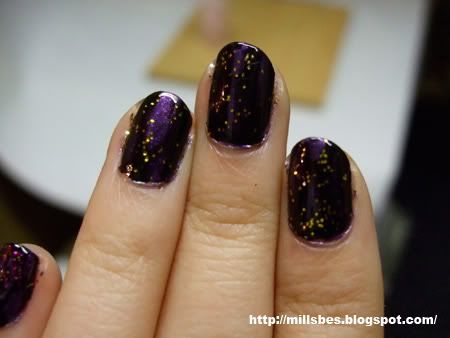 Personally I don't really like this colour. I think it's too light and it looks a bit unnatural on my nails. What I did to make it more wearable is to put a layer of black on top. Then I used my finger to whip of the access, so the purple will shine through. After that I sprinkled some gold glitter on top. I know, I know, black isn't the most 'natural' looking nail polish either. But for some reason I think it works very well on my nails. I especially like this look, because it's not completely black, but there's a sheen of purple peeking through. Looks quite festive, don't you think?