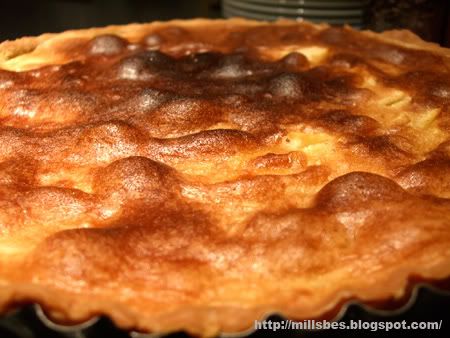 At the very back of our garden we have two apple and a pear tree. We had an exceptional good havest this year. So I decided to make a pie with the fruits. I made an apple pie the first time and when it all ended up in our tummies, I made another pie. I used the same recipe as the apple pie but added some pears to it. Enjoy!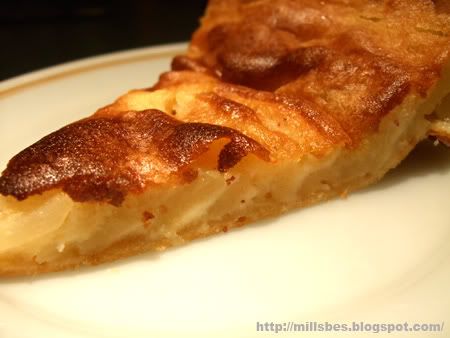 Crust
Ingredients
175gr flour
125gr cold butter
10gr sugar
50ml milk
2 eggs
pinch of salt
Directions
Put the flour and butter in a bowl and mix it until a crumbly dough with low speed.
Mix the sugar, salt, eggs and milk in another bowl
Add the egg-mixture to the crumbly dough
Shape it into a ball.
Let it rest for 1-2 hours.
Apple (& pear) pie
Ingredients
Dough for crust (see above)
115gr soft butter
115gr sugar
25gr flour
2 eggs, beaten
apples (and pears)
Directions
Preheat the oven to 180ºC (356ºF)
Beat the butter with the sugar, flour and the eggs until a fluffy batter.
Peel the apples (and pears). Cut them into 4 parts and remove core. Put the parts down with cut part facing down. Cut into thin slices and them in a row.
Grease the pie tin with some butter.
Dust some flour on your worktable and put the dough for the crust on it.
Roll out the dough until it's about (max.) 5mm thick.
Carefully drape the dough over the pie tin, make sure all the spaces are covered with the dough. When baking, the dough might shrink a bit. Trim the edges and use a fork to prick the dough.
Put the slices of apples (and pears) on the dough.
Pour the batter on top of it. Use a spatula and spread the batter, so everything looks even.
Bake for 45 minutes or until done.
Tip:
Sprinkle some cinnamon on top of the apples, before you pour the batter over it.
The pie tastes delicious when it is still somewhat warm with a scoop of vanilla ice cream.