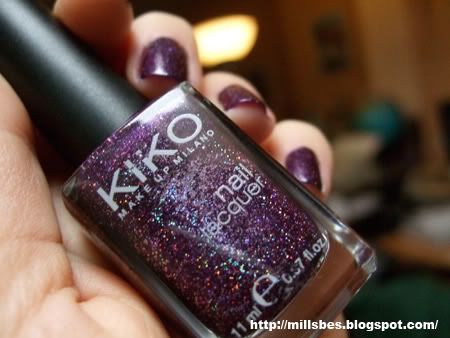 My latest 'obsession' in the nail department is glitters! For some reason it reminds me of outer space. Yes, I do have a very lively imagination. For my latest nail-do, I attempted to bring the Milky Way and Galaxy to my nails.
This nail-do is basically the same as the ones I did in
Holiday Nails
, but with another base colour. The nail polish I used as a base is number
255 Purple Microglitter
from Kiko Cosmetics. I've mentioned about this nail polish briefly in a
previous post
. I'm going to post a better swatch in this post and a little review. The colour is a deep purple with holographic micro glitters. It is very easy to apply, it isn't streaky even with one coat. I used 2 coats, not because it was streaky, but because I thought the colour was a bit too light/sheer for liking. Now if only Kiko Cosmetics would open a store in Belgium. So if you're working for Kiko Cosmetics and reading this, please come to Belgium!