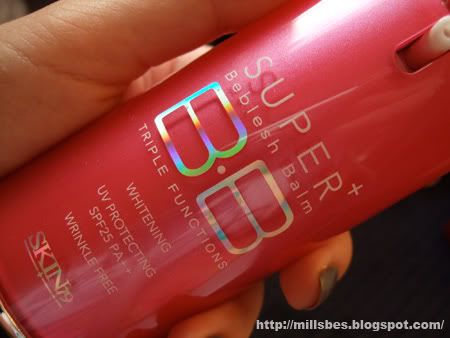 I know, I know, there are probably tons of reviews on the Skin79 Triple Functions BB cream. It seems like I'm getting more and more into make-up lately. First nail polish and now BB cream… Ok, so now my review.
The 3 functions
Whitening
Wrinkles improvement
UVA and UVB protection SPF 25 PA++
The first thing I noticed when I used this BB cream is the scent. At first I thought it smelled like rosewater, but after a few moments the scent was more like baby oil. I personally love the smell of baby oil, but for those who don't like it, don't worry! The smell is very light and quite pleasant.
The coverage is quite sheer, but it is slightly buildable. I think this BB cream is most suited for people who have quite good skin, with little blemishes. It will help even out skin tone. I really like the texture of this BB cream. The texture is creamy. I would say it is a bit thicker than a lotion, but more liquid than a cream. This makes it very easy to apply.
It has a matte finish and I personally think the oil-control is pretty good. I have quite bad skin, my skin type is combo (oily T-zone, normal) and it's acne-prone. The BB cream didn't turn me into a glitter ball for 5 hours. My skin started to look a bit shiny after those 6 hours, but it's more a dewy look rather than a shiny glitter ball.
Overall I would give it
7.5/10
. It didn't clog my pores and it felt very light on my skin. It will accentuate the dry patches on your skin.