Ok, so you guys know I went to London. Of course I couldn't leave the city without buying some nail polishes. Although, I have to say I didn't get anything I had on my "wish list". Actually, I never really had a wish list. There were a few colours I wanted from Topshop, but we never got there… And I totally forgot about Eyeko, but I don't think I saw it at the drugstore. I remember I saw it last year at Superdrug…
Nonetheless, I did managed to get 5 colours at Boots =p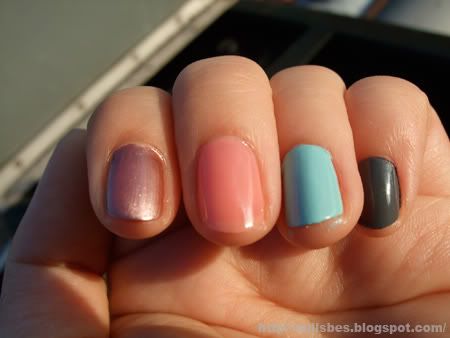 Left to right: 10 Fudge Brownie, Mint Choc Chip, Pink Lemonade and 293 Grey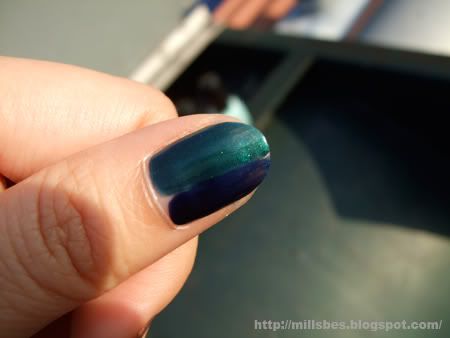 Left: Exquisite, right: Metropolitan Sky Blue
17
This brand is targeted at teenager, so the price is quite cheap. The formula isn't that outstanding, but hey you get what you pay for, right? I believe it was £2.99 for a bottle, but when I bought it there was a "3 for 2" deal. The finish is very shiny, even without a topcoat! The brushes are the flat and wide ones. I thought they were very short and stiff. It wasn't that easy to control it.
The colours I got are Mint Choc Chip, Pink Lemonade and Exquisite. My favourites are Exquisite and Mint Choc Chip.
Exquisite
is a beautiful shimmer green, which makes a wonderful fall/winter colour. Now I normally don't like greens or blues. But this one is dark enough and I love how there are green shimmers! It gives the colour more depth, when you stare into it, it's like you're looking into space. The colour actually reminds me of my jar Gunze metal paint I use to paint the eyes of my Gundams. Hahaha… I always thought that was a beautiful colour. Two coats is enough, but if you want it really dark go for three coats.
I don't know why they named it
Mint Choc Chip
. The name actually reminds me of a brown or a muddy colour. Maybe it's the "Mint" in the name? Anyway, the colour is a very light pastel blue. I wasn't really looking for a pastel blue, but when I saw the bottle I immediately thought "I must have this!" When I put on this colour on my nail, my first thought was it was quite sheer. But three coats are enough and no streaks! Love the formula!
I'm not sure if I really like
Pink Lemonade
. It's quite pink, like flamingo pink? The formula is very sheer. I used three coats and it's still sheer. I'm not sure if it's meant to be, because it's not really a French manicure colour. I used three coats, but I wouldn't mind if I did four coats or even five…
Overall, I really like this brand. It's not streaky at all, it's super shiny and did I say it's not streaky? XD
Collection 2000
I was looking for a bronze colour for a little while now.
10 Fudge Brownie
is a pink bronze. The colour is nice, although it's more a colour my mum would pick (she already used it). I think I prefer a brown bronze more. I have to say that the formula is great! It only needs one coat. It's very covering, but easy to apply. It is a little bit streaky, but given that it is a metallic I think it's pretty normal. The brush was super fat and wide, even bigger than the 17 one. It covered my whole nail in one stroke!
Barry M
The colour collection for Barry M at the Boots I went to was quite disappointing… It was a lot smaller that I thought it would be. I was going to buy a lot of nail polishes from Barry M, but all I got is a bottle of
293 Grey
. The formula is very good, though. It only needs two coats and it's not streaky at all. Like the 17 nail polish it is very shiny. It is a very dark grey. It isn't very special, but a nice fall/winter colour nonetheless.
Pieces Accessories
I didn't buy this nail polish in London, but back here at home. The colour I got is
Metropolitan Sky Blue
, it is a very dark blue with subtle blue shimmers. The blue shimmers are quite hard to see once it's put on the nail. The formula isn't too bad, three coats are needed and it's not streaky. The brush is a normal small brush. What I don't like is the "handle" of the brush. The big cubic-ish handle is hard to hold and it's hard to see where you're putting the brush. Great colour for the winter!