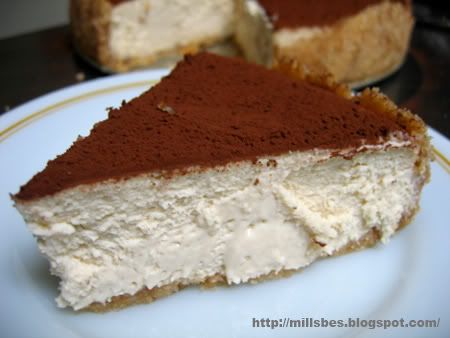 Anyone likes tiramisu? What about cheesecake? For those who love both, this is a great recipe for you! I baked this tiramisu cheesecake yesterday and it's like heaven (ok, not saying that my baking skills are that great, but it's really good). The creamcheese is very creamy and not crumbly and it's not hard to make. I spend about 30mins preparing it and I let it bake for 45mins. It's definitely worth a try!
Ingredients
1 (8 ounce) package of French or Italian ladyfingers, crispy type
4 Tblsp almond powder
24 ounces cream cheese
1 (8 ounce) container mascarpone cheese
1 cup granulated sugar
2 eggs
4 Tblsp all-purpose flour
1 cup espresso
2 Tblsp amaretto
4 Tblsp butter or margarine
2 tsp cocoa powder
Directions
Preheat oven to 175ºC (350º F) . Place a pan of water on the bottom oven rack.
Crush the package of ladyfingers to fine crumbs.
Add the almond powder into the crumbs.
Melt the butter or margarine and add to the crumbs and almond mixture.
Moisten with 2 tablespoons of espresso and 1 tablespoon of amaretto.
Press into an 8 or 9 inch springform pan.
In a large bowl, mix cream cheese, mascarpone and sugar until very smooth.
Add the left over espresso and 1 tablespoon of amaretto and mix.
Add the eggs and the flour; mix slowly until just smooth. The consistency of the mascarpone can vary. If the cheesecake batter is too thick, add more coffee. Do not overmix at this point.
Pour batter into the crust.
Place pan on the middle rack of oven. Bake for 40-45 minutes or until just set.
Open oven door and turn off the heat. Leave cake to cool in the oven for 20 minutes. Remove from oven, and let it finish cooling. Refrigerate for at least 3 hours, or overnight before serving.
Right before serving, use a sieve to sprinkle cocoa powder of top.